Cape Verde has established a National Program for Energy Sustainability (NPES) as part of its Agenda for Sustainable Energy for All. The NPES is a long-term strategy to ensure that transition is made to a safe, efficient and sustainable energy sector, reducing dependence on fossil fuels and ensuring universal access and energy security.
The priority areas of intervention of the NPES are the development of renewable energy, the promotion of energy efficiency and access to energy. Its main goals are: to achieve a 30% renewable energy penetration rate by 2025 and to exceed 50% by 2030, as well as guaranteeing access to electricity to 100 % of the population by 2030.
Microproduction occupies a prominent place in the strategy to develop Renewable Energy. Not only does it provide an alternative to increase the penetration of renewable energy in our energy matrix, reducing costs and energy bills, but also the potential to create jobs for young people. The goal is to move from 4 MWp of microproduction installed in 2019 to 12 MWp by 2030.
In this way, the Technical Service Delivery Office, has supported the public and private sector in implementing renewable energy projects and in conducting an Energy Audit, as a way of getting to know the true load/consumption value.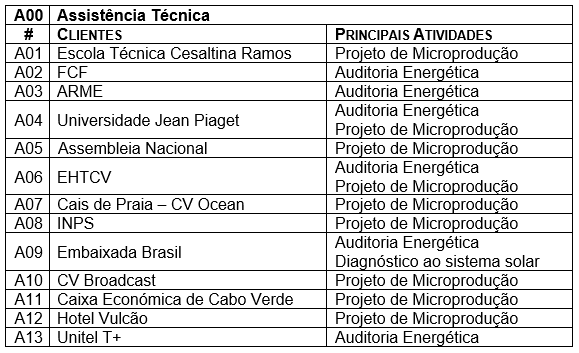 The Technical Service Delivery Office offers its support to the Rural Socio-Economic Opportunity Program (POSER) for the Reconversion of Conventional Pumping Systems to Solar Pumping, a project overseen by the Ministry of Agriculture and the Environment and financed by IFAD. The project covers 7 islands in the archipelago of Cabo Verde: Santo Antao, Sao Vicente, Sao Nicolau, Maio, Santiago, Fogo and Brava.
Technical Assistance is given at project development level (tender dossier and TOR), providing support with the evaluation of tenders, receiving supplies, inspection and provisional acceptance of work contracts, as well as training those that operate and manage boreholes.